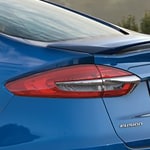 The Ford Fusion is a mid-size sedan that has brought a lot of excitement to our team here at Rhinebeck Ford Inc. This vehicles comes packing a plentiful amount of performance features, all of which have given us reason to think this vehicle might start paving the way for the next generation of sedans.
The Fusion comes with features like intelligent all-wheel drive, which can aid drivers in handling their vehicles enormously. All-wheel drive is already a significant improvement to traditional front-wheel drive, but when you add smart tech into the equation, the difference is even more apparent. The Fusion also offers multiple engine choices, along with advanced power steering assist.
If the Fusion is leaving as big of an impression on you as it has on us here at Rhinebeck Ford Inc., then come by at any point to test drive this exciting mid-size sedan. Our team would love to hook you up.