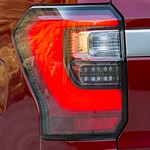 The newest Expedition to hit Ford's lineup this year promises to be just as reliable and safe as it is popular. In fact, much of its popularity is owed in part to the many performance features that come standard with it. These features keep you and those who ride with you well protected from any challenge that could lie in the path ahead of you.
One of the most helpful performance features is its blind spot information system, or BLIS. This system checks your blind spot on both sides for you. It lets you know when you can get into the next lane or and if it is safe to pass.
It also has its own rollover mitigation feature that keeps your SUV from rolling if you slide off the road or get into an accident. It keeps you stable on the road and minimizes the likelihood of being seriously injured.