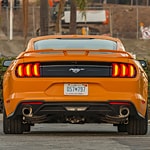 When it comes to performance, it is hard to top with the popular Ford Mustang has to offer. This is a sports car that defines affordable performance. Here's a look at some of the most notable performance features of this year's Mustang.
The Mustang knows how to roar. Sometimes, however, you want to make sure that your sports car can whisper at startup. That's why the Mustang comes standard with a Quiet Start mode. This allows you to have complete control over the start-up sound of your Mustang. When it comes to transmissions, the Ford Mustang offers you a patented 10-speed architecture that is designed to make the most of the sports car's power. Working in conjunction with the paddle shifters, you will get smoother transitions between gears and better overall performance.
Get into the Ford Mustang of your choice today. Visit us at Rhinebeck Ford Inc. and take a test drive today.